Porky's Bayside Restaurant
Porky's is great for breakfast, lunch and dinner 7 days a week. Located in a large Tiki on the waterfront, it is also a fun people and dog watching place. Order the biscuits and gravy, Shrimp and Grits or Vegetable Frittata – all delicious for breakfast. For lunch we recommend the Carolina Pulled Pork basket – spicy and scrumptious. And of course, the fish is always a good choice for dinner. Our favorite drink there is the Classic Cuban Mojito.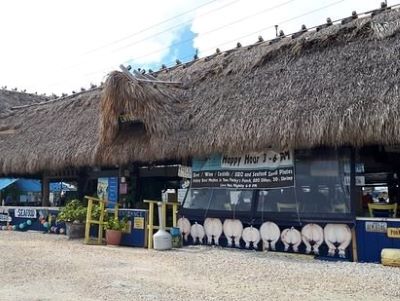 Brutus Restaurant and Seafood Market 
Brutus is another pet-friendly lunch spot that is a local favorite. The food is superb. Try the Brutas Fried Mahi Sandwich or the Sombrero Salad. But the Fried Shrimp basket is to die for too with exquisite homemade French fries. Many, many excellent choices. You cannot go wrong and the patio is one of our favorite spots to hang out with our dog Layla. Get there before it closes around 4pm each day.