An Excellent Choice to Feed a Big Group in Marathon
Irie Island Eats is an outdoor dining and catering company that is actually a food truck owned by a very talented local chef who has a passion for our islands and the Florida Keys.  It is not a mobile Food truck anymore – it has been semi-permanently parked in a shaded garden next to a fruit and vegetable stand and surrounded with colorful and interesting tables, plants, games and funness.
The food is flavorful, healthy and simply outstanding. Irie Island Eats is only open from 11-4 Monday through Saturday. I stop in for Key Lime Mahi-Mahi tacos or a Seared Tuna Tropical bowl (my favs) when I am out and about and need some quick nourishment.
This past Saturday I had a houseful of family over for an early dinner – 20 of us altogether – and Irie Island Eats was my answer to the what-to-feed-all-of-them-that-will-not-take-all-day dilemma. They delivered it right to my door at 4:00 p.m.and I kept it warm while we sat around the Tiki for some conversation and a low key cocktail hour.
When I served the spread, it was gorgeous and every single thing was mouthwatering and satisfying. We had Kalua Pork and Pineapple Mojo Chicken tacos, Key Lime Cilantro Slaw, and Coconut Rice along with pickled onions, jalapenos and Key Lime Vinaigrette. Oh my goodness – we all loved every bite.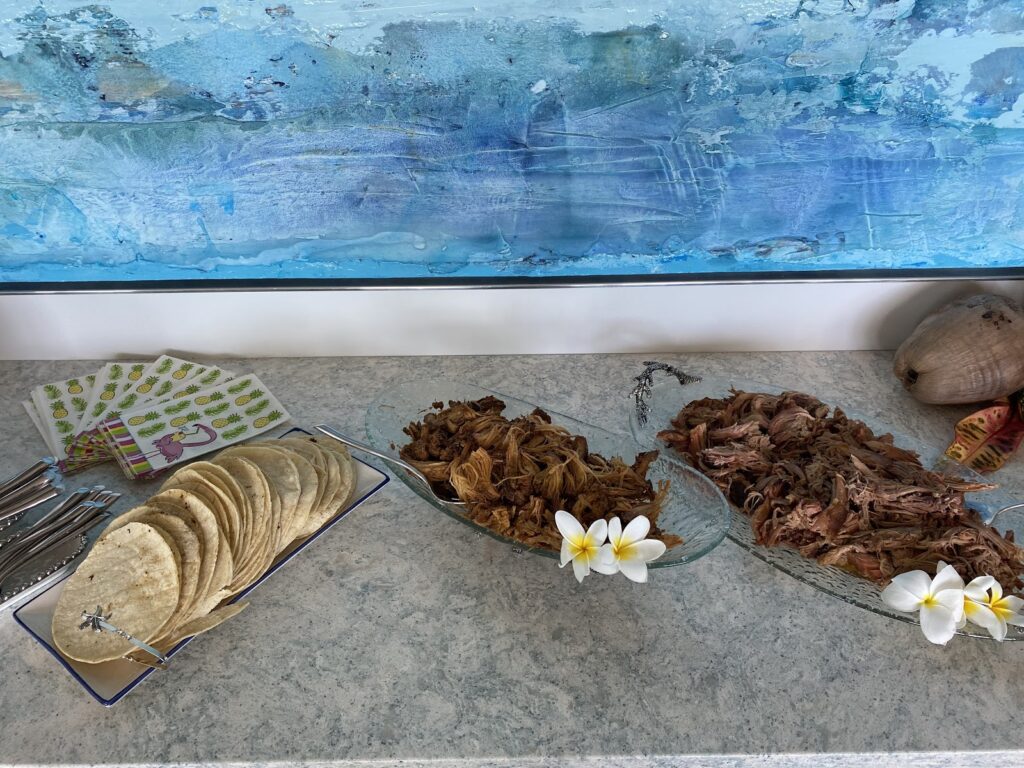 The Kalua Pork is rubbed with Hawaiian sea salt and smoked for 24 hours before shredding. It was so juicy and full of flavor, that some of our menfolk went for thirds and fourths, they could not get enough.
The Pineapple Mojo Chicken was marinated in pineapple and lime juice with a secret herb blend – them wrapped in banana leaves and smoked. The Coconut rice was moist and accented with Thyme and onions.
The slaw is my favorite of all time. I usually do not care for coleslaw, but this one makes me very happy. Fresh cut Napa cabbage is mixed with a cilantro and key lime vinaigrette making it crispy and slightly tangy.
With some fresh cut watermelon wedges and key lime pie – we had a tropical feast!
Fresh, Locally Sourced Island Inspired Cuisine
Irie Island Eats is an outdoor farm to table style dining experience in a garden setting. They focus on local products, clean food and encourage responsible eating through their inspired menu. They use only fresh fruits, vegetables and herbs and cook all of our foods over a wood fire. Their menu incorporates flavors, ingredients, and cooking techniques inspired by islands all over the world. 
Irie Island Eats serves catering needs ranging from small, private dinners to large-scale public events and everything in between. Check their website for more info.
See their food truck daily menu on Facebook.